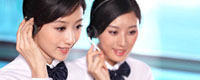 Name: Mrs. Phoebe Lam
Tel: +0086-13715380612
E-mail: sales@hgt-tech.com
Add: Room 101, No.38 Lianxing Road, Shatian village Kengzi Street, Pingshan District, Shenzhen, Guangdong
Skype: info.hgt
QQ: 3192008894




Product name : Night View NV Glasses, Unisex Polarized Aviator Sunglasses Virtually Indestructible Perfect for Any Weather, Yellow Glasses Block Nighttime Glare, Reduces Eye Strain

Product No. : 2020729165855

Price : 10.99
Details:
Specification
Material: AC + Copper alloy
Product Size: Lens width 62mm, Nose width 13mm, Mirror leg length 135mm
Product Weight: 120g
Description
Night View NV Glasses turn fuzzy and dull into clear and bright, especially at night. Night View NV Glasses cut down the glare from headlight and streetlight, reducing eye strain. The secret is the specially coated yellow lenses that block night time glare. Everything will look brighter and clearer. Stylish aviator frames. Night View Glasses as seen on TV provide protection form UVA and UVB rays. Perfect for day and night, cloudy or sunny.
These polycarbonate glasses are meant for use between dusk to dawn under all weather and atmospheric conditions that can make safe driving difficult. Polycarbonate was developed in the 1970s for aerospace applications, and is currently used for the helmet visors of astronauts and for space shuttle windshields. Eyeglass lenses made of polycarbonate were introduced in the early 1980s in response to a demand for lightweight, impact-resistant lenses. Since then, polycarbonate lenses have become the standard for safety glasses, sports goggles and children's eyewear. The stylish aviator frame ensures that nobody knows your secret to safe driving.
Package included
1*Night View NV Glasses