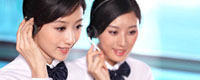 Name: Mrs. Phoebe Lam
Tel: +0086-13715380612
E-mail: sales@hgt-tech.com
Add: Room 101, No.38 Lianxing Road, Shatian village Kengzi Street, Pingshan District, Shenzhen, Guangdong
Skype: info.hgt
QQ: 3192008894




Product name : Guidelight Outlet Wall Plate With LED Night Lights, Outlet Cover With No Battery and Wires Easy Installation In Seconds

Product No. : 201995111612

Price : 29.99
Details:
EASY INSTALLATION: Convenient and easy to install or remove this night light outlet wall plate. Install in seconds as the plate simply snaps into place replacing your current wall outlet with an Illuminating glow.
100% SAFE & COST EFFICIENT : Our LED light naturally do not heat up like standard night lights, keep your children and family safe all the time after being on for several time. The Guidelight cover plate costs less that 10 cents per year to power. With just the right amount of light, you can sleep easy now.
SMART DESIGN: Our outlet cover plates come equipped with LED that are activated via motion sensor (auto on/off light sensor).The smart design allows the wall plate to automatically sense a light deficiency, switching on to light the way.
MULTI-USE: Our LED night light outlet cover eliminates the need for night-lights and allows you to use your outlets in any way you like! It can be used for hallways, kitchens, garages, bathrooms, stairways and bedrooms, giving you a great lighting at night.
GUARANTEE: The LEDs have a life expectancy of 50,000 hours. If you use your lights for 10 hours a day, this should be 13.7 years.
deng'pa
6 Pack Guidelight Outlet Wall Plate With LED Night Lights, Outlet Cover With No Battery and Wires-Easy Installation For Home Kitchen Bedroom Hallway Stairway Garage Utility Room
INSTALLATION:
※ Step 1- Remove the existing cover plate from the outlet using the necessary tools required.
(Note: Take a close look into the electrical box to ensure the screw terminals and free and clear for proper installation of the product prongs.)
※ Step 2- Hold the outlet cover (with the prongs facing outwards) and place over the outlet, sliding the prongs into the electrical box.
(Note: The prongs should slide around the side screw terminals in the outlet box to contact the lower screw heads for power output. Do not force or try to squeeze.)
※ Step 3- Push the outlet cover flush to the wall and secure with a screw.
※ Step 4- Turn back on the power on your cricut board panel.
※ Step 5- Now you could use it. The built-in light sensor will automatically inlluminate at night, and turn off during the day.
LED SPECIFICATION:
-LED Color: White
-Voltage: 120V
-Power: 0.5W
-Frequency: 50-60Hz
PACKAGE CONTENT:
-6 Pack × Guidelight Outlet Wall Plate With LED Night Lights
NOTE:
★The outlet cover should be used in a dry location.
★Please check the dimensions above to make sure they fit in your home!
★Installation of our outlet cover should be in accordance with applicable electrical codes and regulations.