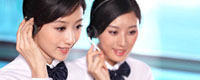 Name: Mrs. Phoebe Lam
Tel: +0086-13715380612
E-mail: sales@hgt-tech.com
Add: Room 101, No.38 Lianxing Road, Shatian village Kengzi Street, Pingshan District, Shenzhen, Guangdong
Skype: info.hgt
QQ: 3192008894




Product name : Ultra-Light Instant 20/20 Adjustable Glasses - Adjustable Eyewear Instant 20/20 Vision 4 Once Non Prescription Lenses Both Nearsighted Farsighted Variable Focus Glasses Computer Reading Driving Eyeglasses Men Women Old

Product No. : 202072917636

Price : 16.99
Details:
INSTANTLY CONTROL FOCUS – A small dial allows you to continuously adjust the prescription and magnification of each individual lens – stay where you are while still seeing sharp + clear
CLEAR LENSES + BLACK FRAME – Durable + lightweight construction – flexible frame with shatter proof + impact resistant polycarbonate lenses – frame size 49-22-141 – safety compliant – no tools needed
INTERFACE GLASSES – One pair for computer – reading – hobbies – watching TV – day or night driving – no need for cheaters readers + boomers – keep at desk – by work bench – use as back up spectacles
ON TREND DESIGN – Unisex fashion frames + square lenses – versatile partial rim style – cute or distinguished on men women boys + girls – all face shapes – no need for bifocals - adjustable nosepiece
DUAL LENS TECHNOLOGY – wavy plates slide by one other for -6 to +3 diopter range on each lens – corrects 90% spherical errors – multiple powers for near + far sighted - not for astigmatism
If you're looking for a pair of glasses that is affordable, versatile, and trendy, then you're in the right place.
This pair of adjustable glasses can turn your life around, as you only need a pair to read, write, watch the TV, work in front of the computer, and drive.
All you have to do is twist the dial to get instant 20/20 vision - No more trips to the optometrist to have your lenses adjusted.
Go on and play your favorite sport or chill by the beach and read that book that you have been dying to read, you deserve it.
Be stylish and trendy when wearing your adjustable lenses, as we offer simple yet easy to wear frames.
It is so universal, and fits all face shapes and sizes.<br>
The frames is lightweight and durable, so you can take it with you without the worry of accidentally dropping and breaking the lenses into pieces.
The wavy plates slide to provide a -6 to +3 diopter range for each lens.
Go on and secure a pair for yourself today!
For a very affordable price, you get to see clearly again.
Its versatility will make you excited to wear glasses again!
Our eyewear is suitable for both near and far sighted people, but is not recommended for astigmatism.